Oh that pesky cell phone!
Hi, Susan:

Question... What is the best way for me to carry my cellphone in the office? Namely, when I go to meetings, I like to have my cellphone with me - partly so my kids' school can contact me in the event of an emergency - but also because I have a smartphone so I keep my schedule in my phone. So, inevitably at the end of every meeting, we schedule the next meeting and I need my phone.

Since the meetings are often down the hall, I don't need to carry my purse with me (and would feel ridiculous if I did so), but I usually have other things to carry (e.g., files, books, notepads) that throwing a phone on the top of the pile (and yes, I have dropped the phone before) this sometimes leaves me to do an unprofessional balancing act.

Because my phone is too big to fit in my pocket - or, if I'm wearing a skirt, I don't have pockets... I don't know how to deal with this. Is it 'wrong' to clip my phone to my waistband?

Help!

Shauna
There are really two answers here, aren't there? On is the simple, straightforward, "No, it's fine if you clip the phone to your waistband! Thanks for writing! Have a great day!"
Except that under NO circumstances should Shauna clip her phone to her waistband. EVER. And that goes for the rest of you too.
Shauna's question is interesting because she's NOT just toting her phone to a meeting -- she has a whole armload of stuff that she has to bring along, PLUS the phone. If you're carrying, say, ONE file folder and your phone, then you don't need to worry about the phone, right, because you can easily carry that. But if you're taking a pile of files and books and notepads -- well, honey, you need a bag.

I can understand why Shauna doesn't want to grab her purse for this -- after all, she doesn't need all the OTHER stuff that's in her purse, like her lipstick and her Purell and whatever the kids have handed her to keep for them. But she DOES need some way to manage that pile, and to keep her cell phone safe and contained.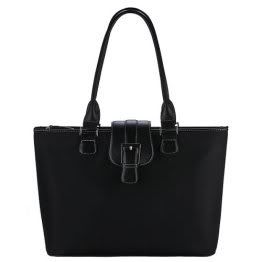 Merona work tote, $29.99

I would suggest that Shauna get a simple tote bag that she can keep in her office. Nothing cute or flowery or frilly, just something in a basic black or brown, with a clean shape. Make sure it is large enough to hold the biggest pile that might need to be toted to a meeting, but not so large that a small child could hide out in it. Load up the necessities for the meeting, toss the phone in, and go. No dropping anything, no struggling to balance a huge pile, and no phone laying on the table during the meeting.

And NO big bulky thing clipped to the waistband of a perfectly nice skirt.

Continue reading . . .