How long is too long? Let's talk hemlines
Recently I've been forced to go shopping for pants and jeans, because my current ones are falling apart (literally, in the case of my beloved white cords). And I've come upon quite a dilemma in that age-old issue--hems. At 5'2" and a size 0/1, the short lengths of most pants are just a TINY bit too long to wear with flats--which are, as Murphy's Law dictates, practically all I wear. We're not even going to get into the issue of fitting my non-existent hips. Anyway! My question is: How badly do I sin if I wear these almost-right pants/jeans with flats anyway? They're like 1 cm away from being the perfect length, and I can't bear/afford to spend $$$ at the tailor's for such a tiny hemming. I also don't own a sewing machine or any possess any skill in that craft...

Lisa
Lisa's dilemma is a pretty common one: the standard hem lengths for off-the-rack jeans and pants are only rarely the exact right length for most of us. The goal is to find pants that are either dramatically too long and have them hemmed, or pants that are close enough and live with it.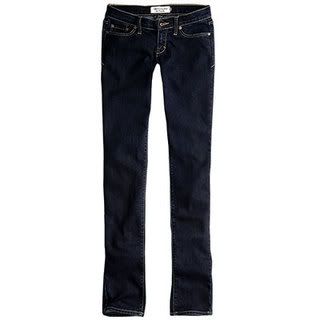 Abercrombie and Fitch Erin skinny jeans, $79.50
Trying to hem pants that are only a wee bit too long (Lisa says a centimeter, and I know exactly what she means) is both a waste of money and a waste of time; it's difficult for even a really great tailor to get a hem that small right, particularly on corduroys and jeans. As long as Lisa isn't stepping on her trousers when she walks, she can let that little extra go.
An added bonus for Lisa is that a slightly longer trouser leg, one that breaks over her foot, will make her legs look longer; since she's petite, this is a good thing. She should look for skinny jeans, too, which will give her the illusion of hips, creating some curves on her small frame.