Wrap dress that flatters the hips and thighs
I have been on a search for a wrap dress for over a year. My problem spots are on the outside of my thighs and most wrap dresses are a jersey knit fabric that tend to fall directly onto my problem spots. I'm looking for a wrap dress (or any dress or skirt) that is a more structured A-line. Meaning it holds the A-shape instead of draping over my thighs! Are you aware of anywhere I can shop for that?

Sarah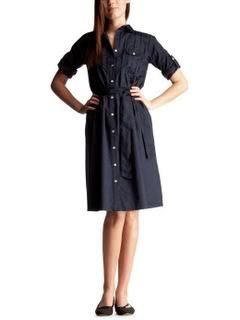 Gap shirt dress, $49.99
Sarah wants to look for dresses and skirts made from structured fabrics that won't cling to her hips and thighs. Wool and cotton blends are good, as are linen and silk (but not a silk jersey, obviously).

Sarah also wants to look for a dress with a distinctly A-line skirt, one that nips in at the waist and then flares out. For this reason, she might have more luck with a shirt dress than with a conventional wrap dress.

Fortunately for her, the shirt dress is EVERYWHERE this spring. J. Crew, Gap, and Old Navy all have shirt dresses in stock right now (the Old Navy dress is ON SALE for $25.00, even!). A shirt dress follows the same principles as the wrap dress: it creates an hourglass figure by pulling in at the waist. But unlike the conventional jersey wrap dress, it won't cling to hips and thighs.