Raising the Bar (and your martini, too)
Sarah wants to know "which outfits would you recommend for creating a milieu of respect, restraint, elegance and class.... ? Surely there are clothes in the modern wardrobe that will fit the bill."
Of course.
I think that
regaining our sense of decorum and elegance
is simply a matter of making an effort to look presentable all the time (or the majority of the time). Dinner with your sweetie? Put on a dress. Brunch with your in-laws? A nice sweater and skirt. Drinks with the girls (kids included)? Spiff up your shorts with a pretty top and some great shoes.
Anthropologie
The revival of elegance has less to do with how much your clothes cost or how often you wear a dress; instead, elegance, like civility, is about how you present yourself. Clothes that fit properly and flatter your figure are a crucial first step.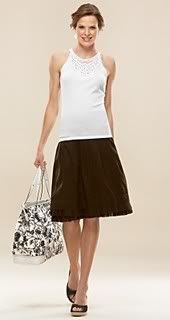 Ann Taylor
But making the effort to pull yourself together is an important second step. Every time I see Britney Spears in a pair of Daisy Dukes and an ill-fitting baby doll, I wince; she is practically begging us to question her mental state and her parenting and her life choices. And no, I don't think that bad shorts make you a bad mother, but appearances matter.
Ann Taylor Loft
Take five minutes to put together an outfit that doesn't look like it came from the hamper; take five more minutes to dress up a little for those special moments. I promise you it's worth it.
Continue reading . . .