Good things come to those who wait (and also to those who work the price adjustment)
I've been coveting this dress for a while now:
Kaylie wool jersey dress, J. Crew
It was originally $150.00, which was reasonable, I suppose, but still kind of steep, and it was catalog/jcrew.com only, which meant I would have to order it in more than one size and pay the extra shipping. So I waited.
Currently, the dress is on sale for $99.99, and through the end of the day today shipping is free on orders over $175.00 (enter code "holiday" at checkout). This dress, in black, in two sizes, with tax, is $208.00; I won't pay any shipping on the dress I return (to the store in the mall here, OF COURSE) so this isn't costing me any more than it would have if I had been able to go to the mall and try the dress on there. A pretty good deal all around, I would say.

And completely worth waiting for.

Steph, on the other hand, bought this very very cute dress at New York & Company three days ago: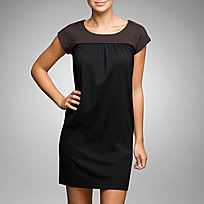 New York & Company City Style dress

She paid $54.95 for it; it's now on sale for $34.95. Bummer for Steph. Or IS it?

NY&Co, like most retail stores, offers a one-time price adjustment on merchandise. Because this item went on sale within 14 days of purchase (in this case), Steph can take her receipt back to the store and NY&Co will refund the difference. Virtually every chain store has a price adjustment policy, even for catalog or internet orders. You can find them in the Customer Service section of the web site, or you can ask a sales associate. Many are 14 days, but some -- like Old Navy -- are only seven days, so check carefully.

Moral: be patient and be vigilant, and you can find nice things for less than the list price.

It's worth it. Really.